Featured image from The Pirate
Alongside the May '68 viewing project I posted about last week, I mostly went for very different sorts of movies that would function as palette cleansers amidst all the political radicalism. I watched a ton of Vincente Minnelli (classic Hollywood) and Hideo Gosha (Japanese genre fare) along with an assortment of other random stuff.
Favorites are highlighted in bold. 
Vincente Minnelli
During the last year, I watched Minnelli's classic musicals Meet Me in St. Louis (1944) and The Band Wagon (1953) and was completely blown away by them. I consider both to be among the very best American musicals. I had only seen a handful of Minnelli movies before and I resolved to do a deep dive into his filmography sometime in the near future. When I heard that Time Warner was putting the Warner Bros archive on Filmstruck, my first thought was "oooooooh I bet there's gonna be a boatload of Minnelli." Sure enough, just a few weeks later I logged in to find a 25 film Minnelli feature (I try to avoid reading what's coming soon on Filmstruck so that I can enjoy the surprise when I log in). I had lots of plans for other things I wanted to watch, but I suspended most of them and dove in. Aside from Meet Me in St. Louis and The Band Wagon, I watched every movie in the feature except one. That one was The Reluctant Debutante, which I tried twice and could not get into (too many squealing British ladies). I'll go back and watch it if I get to the point where I've seen every single other Minnelli movie (I think I have maybe 4-5 others left depending on whether you count titles that he only directed part of). I'm going to give at least a brief comment on every title:
Cabin in the Sky (1943)
Musical about a murdered sinner who gets a chance to return to Earth and reform himself, with an all-black cast and Busby Berkeley choreography. There's a delightful appearance from Louis Armstrong and a big number with Duke Ellington and his Orchestra. It's very good but not great.
The Clock (1945)
Much better than I thought it would be. It's a sort of WWII Before Sunrise, where Robert Walker has 48 hours before shipping off and randomly meets Judy Garland in Penn Station. They have a whirlwind romance but accidentally get separated and need to figure out how to find each other. The energetic, stylized direction elevates the material, and Garland's performance (her first without song and dance) is excellent.
Yolanda and the Thief (1945)
This one wasn't on Filmstruck. Lucille Bremer plays a naïve heiress, fresh from the convent, while Fred Astaire plays a charming con man who poses as her guardian angel as a ruse to relieve her of her fortune (but eventually falls for her). I was shocked to learn that this was a huge flop, but now that I've thought about it more, I'm not so surprised. There's a 16 minute surrealistic dance number where some of the dancing is in a different meter than the music. This movie was just too far outside the box at a time when audiences had fairly rigid expectations for musicals. Highly recommended.
The Pirate (1948)
I love it, I love it, I love it. Judy Garland plays a sheltered young woman living in the Caribbean who fantasizes about being swept away by the legendary pirate Mack "the Black" Macoco. Against her will, her parents arrange her marriage to the repellent town mayor. Meanwhile, a traveling circus comes to town featuring Gene Kelly as a womanizing circus leader/hypnotist. He discovers Garland's fantasy and launches a ploy to pose as the pirate of her dreams. Hijinks ensue. I haven't investigated this suspicion but I have the sense that Renoir's 50's work was highly influenced by Minnelli. I see the influence of Meet Me in St. Louis in The River and the influence of The Pirate in The Golden Coach. 
Madame Bovary (1949)
Not the most faithful Bovary adaptation, but entertaining as a Hollywood melodrama with Emma Bovary as a sort of femme fatale. The film ran up against the Hays Code, which Minnelli addressed head on with an obscenity trial framing device. This might have been intolerable, but Flaubert is played by James Mason, and I could enjoy listening to James Mason read instruction manuals.
Father of the Bride (1950), Father's Little Dividend (1951)
Eh, I've seen these more than once before and they have a great cast (Spencer Tracy, Joan Bennett, Elizabeth Taylor) but they're pretty forgettable in the context of Minnelli's filmography, which is full of much finer treasures.
An American in Paris (1951)
An old favorite, with Gene Kelly as an American GI turned bohemian painter living in Paris and introducing ballerina Leslie Caron as the leading lady. Kelly's dance choreography and Gershwin's music are immensely pleasant, but the parts are greater than the whole and I would rank this solidly behind The Band Wagon.
The Bad and the Beautiful (1952)
Peak Lana Turner! Along with Two Weeks in Another Town, part of a pair of fantastic films Minnelli made with Kirk Douglas about making movies. Here Douglas plays a gifted movie producer (often taken to be a hybrid of David O. Selznick and Val Lewton) who gets closely involved with the creative aspects of his films but alienates everyone he's close to and ruins his career. The movie looks back over his life when he asks a director, an actress, and a writer from his past to collaborate on a comeback project. Each of them tells the story of their relationship with Douglas' character. They all claim he ruined their lives, but their stories reveal that they actually owe their current success to him. Lana Turner losing it in the car is all time.
The Story of Three Loves (1953)
For an anthology film, this is frickin' awesome. There's a ridiculous ocean liner framing device and then three romance stories. The first is just incredible. James Mason plays an imperious ballet director and ballerina Moira Shearer (in one of her few film performances) plays a would-be professional dancer with a heart condition. You can probably imagine what happens (Rite of Spring-esque); it's beautiful and heartbreaking and Mason and Shearer are so, so good. The second segment is the weakest of the three. It's a really creepy antecedent to Big, with Ethel Barrymore stealing the show as a witch who turns a young Ricky Nelson into Farley Granger, who then proceeds to romance his governess (Leslie Caron). The third story stars Kirk Douglas in perhaps the most harrowing existential trapeze thriller of all time. Death drive, Holocaust trauma, no net. It's really tremendous.
The Long, Long Trailer (1954)
I wasn't sure I wanted to watch this Lucille Ball and Desi Arnaz vehicle, but my concerns were entirely misplaced. It's hilarious from start to finish. Basically, wife persuades her husband to buy an obscenely oversized mobile home and hijinks ensue.
Brigadoon (1954)
Lovely Gene Kelly-Cyd Charisse musical (co-starring an excellent Van Johnson) about a mystical town in the Scottish highlands that appears only one day every hundred years. The premise strains suspension of disbelief but it works as a metaphor for the longing to stay in a magical movie world after the credits have rolled.
The Cobweb (1955)
Mental hospital melodrama where the McGuffin is drapes. Many of the characters become embroiled in a conflict over who gets to pick the new drapes. It's remarkable how much mileage is squeezed out of this conflict. The excellent ensemble cast includes Lauren Bacall, Charles Boyer, Lillian Gish, Richard Widmark and Gloria Grahame. This movie has a cult following, though I personally didn't like it as much as some of Minnelli's other melodramas.
Lust for Life (1956)
Goofy, ridiculous, entertaining van Gogh biopic starring a very over-the-top Kirk Douglas. Anthony Quinn plays Gauguin!
Tea and Sympathy (1956)
This is one of Minnelli's finest films and possibly the best movie ever made about the way men are socialized. Deborah Kerr and John Kerr (no relation) star. The former brilliantly plays Laura, the wife of the headmaster of a boys' school, while the latter plays Tom, a sensitive student. Tom is teased mercilessly by his peers and prodded to conform to gender expectations by the headmaster. Laura bonds with him and tries to protect and nurture him, and sexual chemistry develops between them. There is an unreconciled and extremely interesting tension between the subtextual implication that Tom's character is gay and the forbidden heterosexual romance narrative.
Designing Woman (1957)
The worst Minnelli movie I've seen. Gregory Peck comes across as a poor man's Cary Grant while Lauren Bacall does a halfway decent Katharine Hepburn. There is no chemistry whatsoever between them. The mean-spirited "punch drunk" jokes at the expense of a disabled character have not aged well.
Gigi (1958)
Gigi has not aged well either. Maurice Chevalier's "Thank Heaven for Little Girls" musical number is unspeakably creepy. There are some redeeming moments but this is bottom-tier Minnelli for me.
Some Came Running (1958)
Excellent postwar melodrama (based on the James Jones novel), starring Frank Sinatra, Dean Martin, and Shirley MacLaine. I recommend it heartily.
Home from the Hill (1960)
Another Cinemascope melodrama, starring Eleanor Parker, George Hamilton, and a phenomenal Robert Mitchum. Mitchum plays a wealthy, philandering, brutish Texas patriarch who tries to make a man of his mollycoddled son. It's sort of a cross between Tea and Sympathy and Written on the Wind.
Bells are Ringing (1960)
Musical comedy starring Dean Martin and Judy Holliday. She works for an answering service; he's a client and a struggling playwright; there's a romance. I didn't like it.
Four Horsemen of the Apocalypse (1962)
This production was a disaster. Minnelli didn't want to make the movie, and when he did agree to make it he wanted Alain Delon to star. He ended up instead with a terribly miscast Glenn Ford. Ingrid Thulin (who you may remember from many Ingmar Bergman movies) is quite good. It's the story of a large, wealthy Argentinian family who are divided by WWII, as one son (with a German father) becomes a high-ranking Nazi official while the another (with a French father) reluctantly becomes a participant in the French Resistance. It's overlong and a total mess, but it has redeeming qualities. Delon instead of Ford would have made a huge difference.
Two Weeks in Another Town (1962)
This is absolutely fantastic. I would have trouble picking my favorite Minnelli movie but it might be this. It's also possibly the best movie about the death of old Hollywood (as seen from the inside). Kirk Douglas plays a washed up alcoholic movie star recovering in a mental hospital after losing his wife (Cyd Charisse), getting into a near-fatal accident, and having a breakdown. Edward G. Robinson (!) plays a philandering director past his prime who is reduced to making low budget dubbed Italian movies. Robinson and Douglas had a falling out when Robinson had an affair with Charisse, but Douglas is so desperate for a comeback that he jumps at an invitation to fly to Rome and appear in Robinson's new movie. I don't want to say any more about the story, but it is intense. One should definitely see The Bad and the Beautiful first. Also, NB, Godard's Contempt was a response to this.
The Courtship of Eddie's Father (1963)
Part light comedy, part heavy melodrama about a widower with a young son. Glenn Ford is extremely good in this one, but child star Ron Howard is mostly intolerable (he has a couple good scenes), and I didn't like Shirley Jones as the neighbor. Ultimately, I felt like the movie's insistence on being a comedy ruined it. It would have been much better as a drama.
Hideo Gosha
Sword of the Beast (1965), Samurai Wolf (1966), Tenchu! (1969), Goyokin (1969), The Wolves (1971), Violent Streets (1974), Bandits vs. Samurai Squadron (1978), Hunter in the Dark (1979), Onimasa: A Japanese Godfather (1982), Death Shadows (1986), Heat Wave (1991)
Image from Goyokin
Gosha was a Japanese genre maverick who has long been underappreciated in the west but has grown in esteem since his death. I watched his first film, Three Outlaw Samurai, a few months ago and I've owned a DVD of Sword of the Beast for ages, but I hadn't seen any of his other work. It's still pretty hard to access some of these titles, but a good number of them are on Filmstruck. All of these are either samurai or yakuza movies. Gosha's samurai movies are very dark, and will seem particularly so to people who only know the genre through Kurosawa. They feature unsavory lead characters (outlaw samurai!) and slow buildups to quick, brutal bursts of violence. Gosha is a consummate stylist who bears comparison in some respects to Sergio Leone (and pulpier spaghetti western directors like Corbucci) and Brian De Palma. He's less meta than De Palma but he has a similar ability to never waste a shot and to present lurid material with maximum impact.
Image from Death Shadows
Tenchu! and Goyokin are his two most acclaimed movies. Goyokin is my favorite. It's about a plot by a regional lord to steal a shipment of gold from the shogun, murder an entire fishing village, and frame them for the theft. A ronin (Tatsuya Nakadai) with a guilty conscience tries to prevent this injustice. It's gorgeous, operatic and brutal– one of the best samurai movies. Tenchu! is also extremely good. It's about a ronin (Shintaro Katsu, who often played Zatoichi) who is enlisted by a group of imperial loyalists as an assassin and warrior. He proves nearly invincible in combat and the group rises in power on his back. He is fiercely loyal to the group's leader (Tatsuya Nakadai), despite warnings that he'll be betrayed when it becomes convenient. My other favorite Gosha film is the Yakuza saga The Wolves. Set in the 30's, a yakuza (Tatsuya Nakadai yet again) who had assassinated a rival boss is released from prison early. His crime family has reached an uneasy truce with the rival family whose boss he killed, putting him in a difficult position. Chaos eventually breaks out, and the narrative is full of exciting twists and turns. The last honorable men, a score to settle, an encroaching railroad: it shapes up like a yakuza Once Upon a Time in the West meets Carlito's Way. It's one of the best yakuza movies.
Image from Onimasa
Among the other Gosha samurai titles, Sword of the Beast is a must see, while Bandits vs. Samurai Squadron offers many pleasures but also has an impossibly convoluted narrative. I enjoyed it more when I just gave up on the narrative and let it wash over me. It has a great cast (Jo Shishido!) and it's full of Feuillade-esque touches like trap doors and secret compartments. Matt Lynch called it a samurai Ocean's 11, which is apt. Hunter in the Dark is similar but with a far clearer narrative. Death Shadows is very good. It's about criminals who are forced to become assassins to avoid execution. The daughter of one ends up becoming an assassin as well, and it becomes a rare female-centric samurai movie. There are crazy non-diegetic dance sequences and an amazing fight scene that integrates rhythmic gymnastics. Among the other Yakuza titles, Heat Wave is also female centric. It's not great but it has a doozy of a finale. Violent Streets and Onimasa have some very disturbing content but both are worthwhile, especially the latter. It's a saga taking place over 30 years, starring Tatsuya Nakadai yet again as the leader of a minor yakuza organization who maintains the delusion that he lives by the old code of chivalry. The film focuses a great deal on his two daughters (one adopted) and the struggles they endure living amidst the brutally sexist yakuza culture.
John Frankenheimer
The Young Savages (1961), All Fall Down (1962), The Train (1964)
Image from The Train
I hadn't seen any of these. They're all worthwhile and feature virtuoso direction. The Train is tremendous. I loved it with my whole heart. Burt Lancaster plays a railroad worker and fighter in the French Resistance who tries to stymie a massive Nazi art theft during the final days of WWII. It's incredibly thrilling throughout and delves intelligently into the question of whether the preservation of art can justify the loss of human life. All Fall Down is a total hoot. Warren Beatty plays a very bad seed named Berry-Berry. Karl Malden and an absolutely terrific Angela Lansbury play his fawning parents (combine this with Lansbury's work in The Manchurian Candidate and you have the all time most cynical portrait of motherhood). No matter how bad he is, all they want to do is love him and sing his praises. And he is very, very bad. He begins a love affair with tender-hearted Eva Marie Saint, with tragic results. They say the name "Berry-Berry" like a thousand times.
Jean Renoir cont.
Whirlpool of Fate (1925), La vie est à nous (1936)
Image from Whirlpool of Fate
I didn't make much Renoir progress. I watched so many May '68 movies that I didn't feel like watching too many additional French movies on top of that project. Whirlpool of Fate is like a D.W. Griffith highlight reel with Hessling in place of Gish. It's an immature work, but exhilarating and fun. La vie est à nous is a Popular Front propaganda film. Several directors (including Becker) contributed material while Renoir supervised. It has some great moments amidst the more banal material and is interesting to compare with the May '68 stuff.
Takashi Miike
Ichi the Killer (2001), For Love's Sake (2012), As the Gods Will (2014)
Image from As the Gods Will
Ichi on blu-ray! I hadn't seen it for a very long time. It's still one of the most fucked up things I've ever seen. I thoroughly enjoyed it. It's extremely juvenile but not in a bad way. It's definitely not for everyone (if you have an upper limit on graphic violence, stay away). For Love's Sake is a high school musical. It's much too long but it has some inspired moments. I loved As the Gods Will. Basically, there's a sudden divine event where high school kids are forced to undertake a life-or-death real world video game where they pass through a series of puzzle levels and the survivors of each level move on. For instance, in one level they face a giant cat (pictured above) who wants to eat them. Miike nails the high school politics and the violence is inventive throughout. It's one of the most successful attempts to make a movie with a video game structure.
André Téchiné
I Don't Kiss (1991), My Favorite Season (1993)
I know there was a point maybe 15 years ago when I watched a ton of Téchiné movies, but I can only remember like three or four of them. I'm not sure whether I had seen these or not. They're both okay, but I didn't love either of them. I Don't Kiss is a clichéd story about a young man from the provinces who sets off for the big city and ends up becoming a prostitute. My Favorite Season (the better of the two) is a family drama starring Catherine Deneuve and Daniel Auteuil. It's nuanced and of course the acting is very good.
Phil Karlson
The Iroquois Trail (1950), Kansas City Confidential (1952), 99 River Street (1953), The Phenix City Story (1955)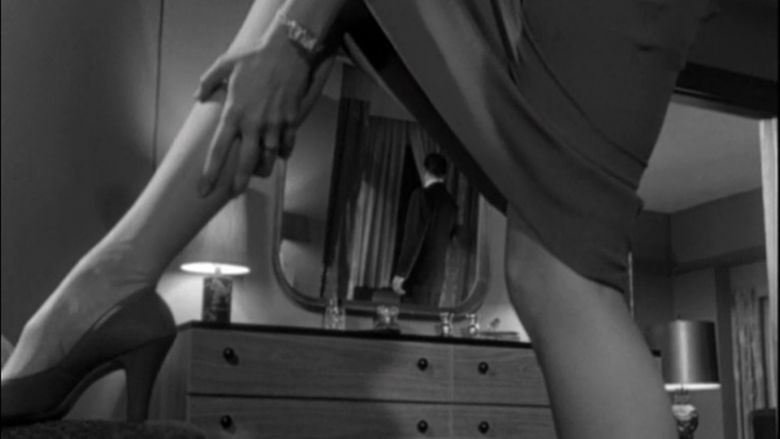 Image from 99 River Street
Phil Karlson is a B-movie god! It's awesome that so much of this stuff is showing up on streaming services (I watched these on Filmstruck; they're gone now but some of them are on prime). Scorsese is a huge Karlson devotee and borrowed heavily from him, particularly in the way he films action. Kansas City Confidential and 99 River Street are my favorites. The former is a caper movie full of twists and turns while the latter is a boxing noir.
Bill Morrison
The Film of Her (1996), Decasia (2002), The Mesmerist (2003), Light is Calling (2004)
Image from Decasia
Bill Morrison makes found footage movies from decaying nitrate films. I didn't care for The Film of Her, but the others are awesome. Decasia is his magnum opus. It's feature length and may be hard to take for some, but I really loved the music (original composition by Michael Gordon) and so it worked for me. If you struggle with abrasive music, you may want to start with Light is Calling and other shorts.
Safari Classics
Mogambo (Ford, 1953), Hatari! (Hawks, 1962)
Image from Hatari!
I had never seen these. They're both good, but I preferred Hatari! John Wayne leads a group that captures animals for zoos. A female wildlife photographer (Italian actress Elsa Martinelli) comes to camp and tries to change everyone's ways. She encourages everyone to show greater compassion for the animals and ends up adopting a trio of baby elephants (which leads to some Hawksian screwball comedy). Hatari! is long and plodding, but that's more of a feature than a bug. It's not narrative driven: it's more of an aimless sojourn at a safari camp, interspersed with thrilling, technically astonishing animal chases. Mogambo is a safari remake of Red Dust and focuses on a love triangle between Clark Gable, Ava Gardner, and Grace Kelly. Can't go wrong with that cast.
Late Chaplin
A King in New York (1957), A Countess from Hong Kong (1967)
I had seen Limelight but neither of Chaplin's final two films. A King in New York is a very funny fish out of water comedy about an ousted monarch (played by Chaplin) who moves to New York and is sucked into the advertising business. Eventually it becomes a scathing indictment of McCarthyism (which Chaplin himself was a victim of). I enjoyed the jarring tonal shift. A Countess from Hong Kong was much maligned by critics at the time but Chaplin himself considered it his best film. From what I've read, it's long had ardent defenders (notably Truffaut and Andrew Sarris) and has received favorable critical reappraisal during recent years. I think it's a very fine film. Marlon Brando plays a wealthy diplomat while Sophia Loren plays a Russian countess living in exile in Hong Kong as a gangster's mistress. She wants to flee to the west but has no travel documents, and so she stows away in Brando's state room when he ships off. The effort to conceal her presence becomes comic (there is a lot of opening and closing doors) and a romance eventually develops. Taken as Chaplin's swan song, it's a very beautiful and moving film.
Star Wars: Despecialized Original Trilogy
I absolutely hate George Lucas' special editions of the original trilogy. I won't watch them, and so I hadn't seen the films in a long time, because the philistine has refused to make the real versions available. I heard about the "Despecialized editions" a year or two ago: some tech savvy heroes put together the original cuts of the films in the proper aspect ratio along with 5.1 audio. I finally got around to watching them and it was glorious. What a gift. I liked the 1977 original film better than I remembered.
Frank Henenlotter
Basket Case (1982), Frankenhooker (1990)
Image from Basket Case
Awesome exploitation horror. I remember Basket Case from when I was a kid. I can still see the cover of the VHS on the horror shelf in the video rental store I grew up with. It's aged like fine wine. I realize now that it's a psychoanalytic inversion of Psycho. Frankenhooker is very fun as well, especially the supercrack scene, which is all time.
By the way, Basket Case is now part of the permanent collection of the MoMA!
Marvel Studios
Spider-Man: Homecoming (Watts, 2017)
I tried to watch this last year but I hated it so much that I didn't finish it. A couple people I know who are more into MCU told me this is one of their favorite Marvel titles, so I tried it again. I hated it even more than I thought I would. First of all, the opening is terrible. Several minutes of shaky iphone footage (presented in iphone aspect ratio) reminding us of all the clever ways the MCU set this movie up? This easter egg bullshit and continuity for continuity's sake is one of the things I dislike most about Marvel Studios. Second, the half-assed John Hughes highschool stuff is terrible. I was cringing at how bad it is. Third, the action scenes are terrible, especially compared to the Sam Raimi movies. It just becomes an animated movie when the action scenes start, and there is no sense of gravity. All of the wonder and most of the suspense is lost (compared with the constant feeling in the Raimi action scenes that Spider-Man is falling and catching himself). Fourth, the ending is terrible. I would have trouble naming an uglier, less appealing stretch of film.
Avengers: Infinity War (Russo bros, 2018)
Hell no. I hated it (not as much as Spider-Man, though).
Black Panther (Coogler, 2018)
I did not like this. Michael B. Jordan is great (as always) but his Killmonger is the only three-dimensional character. My favorite part is the scene where he bests Black Panther in single combat. I had heard a lot about the cool peripheral characters but I found them disappointing. Awesome, the genius engineer character is a black woman… but she doesn't get anything interesting to say or do. My biggest issue with the film is that the action scenes are generally illegible. I also found the production design to be overstuffed, as though they tried to cram a drum or an impala skin in every corner of every frame.
Given the progressive embrace of the film, I was surprised by how conservative it is. Not that there's anything wrong with that—I can get down with some conservative filmmaking, as in the case of Clint Eastwood—but I am put off by the failure of most popular discourse to engage with the film's politics beyond the most superficial level. Since I don't relish the role of being the white guy who disliked Black Panther, I'll close by linking the most interesting positive review I read, by K. Austin Collins: https://www.theringer.com/movies/2018/2/14/17011910/black-panther-film-review-marvel-ryan-coogler-michael-b-jordan-chadwick-boseman
New releases
The Commuter (Collet-Sara, 2018)
Hell yes. Collet-Sara is the anti-Christopher Nolan (credit my brother for that phrase). We never have any idea where anything is in a Christopher Nolan movie. It's all zoomed in confusion. Think back to the great chariot race in Ben-Hur. What's the first thing William Wyler does? He takes us along for a slow trial lap around the race course, introduces us to all the players, and foreshadows obstacles the protagonist will face. This sort of clarity in action filmmaking is a dying art, and Collet-Sara is one of its greatest modern practitioners. Liam Neeson is supposed to find a person on a train but doesn't know what they look like. The stakes are high. The first thing we do is walk all the way through the train not once, but twice. We meet every suspect, we get the whole layout, and we inspect all of the clues. (Compare Collet-Sara's also great The Shallows and Non-Stop). This is like three "Liam Neeson is a secret badass" movies and an Agatha Christie novel all rolled into one.
Molly's Game (Sorkin, 2017)
I hated this. Jessica Chastain is so bad! Aaron Sorkin directing his own material is a disaster. I can't believe that no one stopped him from filming that ice rink scene with Kevin Costner. What a mess. On the plus side, Idris Elba is very good and gets to do an Al Pacino-style courtroom speech.
The 15:17 to Paris (Eastwood, 2018)
I fucks with The 15:17 to Paris. It's by far Eastwood's weirdest movie. He reenacted the recent event when some American soldiers on vacation stopped a terrorist attack aboard a train from Amsterdam to Paris. He reenacted it WITH THE ACTUAL PEOPLE! They can't act (of course) and the effect is extremely weird but also captivating. Eastwood goes full postmodernism at the age of 88! Thematically, the movie is most concerned with connections between American militarism and religiosity. It's not as ambivalent and nuanced as American Sniper, but its weirdness is just so damn interesting.
Annihilation (Garland, 2018)
Pretty cool Tarkovsky-riff/psychedelic freakout. Taken as an attempted neo-Tarkovskian masterpiece, it fails, but taken as weird sci-fi horror, it succeeds. I liked Natalie Portman.
ManHunt (Woo, 2017)
Eh…. Certainly not John Woo's best movie and I hated the unnecessary dubbing but it has some pleasures to offer for heroic bloodshed fans.
Red Sparrow (Lawrence, 2018)
Overlong, trashy spy movie with Jennifer Lawrence doing a bad Russian accent. It has its pleasures, but I wouldn't go out of my way.
Pacific Rim: Uprising (DeKnight, 2018)
So many nights I've uttered aloud the wish "what I want right now is to see Pacific Rim for the first time, again." I was excited about a sequel but worried about the change in director. It's ultra-ultra-stupid and not good, but I don't regret watching it.
Beyond Skyline (O'Donnell, 2017)
I watched this twice. It's sooooooooo weird and more or less entirely successful relative to its low-budget, direct-to-video constraints.
Game Night (Daley and Goldstein, 2018)
Decent comedy rendition of The Game. One of the better recent comedies (a genre that's really struggling).
Kidnap (Prieto, 2017)
Straightforward kidnapping thriller with a whole lot of Halle Berry screaming in her car.
Jumanji: Welcome to the Jungle (Kasdan, 2017)
The Rock plays a low-confidence nerd stuck in The Rock's body. Jack Black plays a narcissistic teenage instagrammer stuck in Jack Black's body. Interesting acting challenges, well met.
Fifty Shades Freed (Foley, 2017)
I like these movies as camp. This one isn't quite as ridiculous as the second one, but I enjoyed it.
Paddington 2 (King, 2017)
Several orders of magnitude better than the first one, which I hated. Hugh Grant is awesome but Brendan Gleeson steals the show.
American Honey (Arnold, 2016)
The whole thing about this movie is how long it is. It's nearly three hours long, and there's barely enough narrative for 90 minutes. For me, the length elevates the material. It presents the story of some hustler kids in middle America as a Great American Epic. I liked this a lot.
The Post (Spielberg, 2017)
Fun pop filmmaking, just don't expect some great big insight.
It (Muschietti, 2017)
Eh, I liked the Goonies stuff but the CGI kind of ruined the horror for me.
Miscellaneous
Spring, Summer, Fall, Winter… and Spring (Kim, 2003)
One of the biggest 21st century critical favorites that I hadn't seen. I hated it! I would have trouble naming a heavier handed religious allegory. A Christian version of this would never fly, but because it's Buddhism it's cool? I thought the first vignette had some appeal, but by the time the second spring rolls around (surprise, the narrative cycle begins again) I felt nothing but contempt for this movie. Give me a break with all the pretty pictures of the house on the lake—this is the shallowest, most uninteresting sort of prettiness.
Yeelen (Souleymane Cissé, 1987)
Hell yes. This is the first film I've seen from Mali and from director Cissé. It's about a young sorcerer on a quest to enlist the aid of his uncle in defeating his evil sorcerer father. Eat this, Lord of the Rings: never before has magic in film seemed more real to me. I completely love this.
Zorn's Lemma (Frampton, 1970)
I've never really been interested in experimental film but I've been evolving on that front and ticking off experimental classics like this one here and there. The first part of this movie runs through the alphabet rapidly, with pictures of words starting with each letter, and then starts substituting non-linguistic images. Some of the letters are skipped and one finds oneself trying to keep track of the order but drifting into confusion about what happened to a missing letter. I took it as a way of making apparent certain cognitive phenomena related to the way we process films. We are trying to focus on everything, but one thing distracts us and then we miss a couple of other things, and then perhaps miss other things while trying to retrieve what we missed. It makes me think of the brilliant split screen scene in De Palma's Passion where he shows us the ballet Afternoon of a Faun on one side while showing us the pivotal murder on the other. Crucial information is right in front of us but we don't see it because we're watching the damn ballet. The second part of Zorn's Lemma shows us some figures progressing across a snowscape while 6 female voices alternate reading one word per second of On Light, or the Ingression of Forms by Robert Grosseteste. It's basically impossible to follow when read this way and one notices occasionally that the figures (who are moving very slowly) have made a leap of progress while one was trying to focus on following the narration.
Perversion Story, aka One on Top of the Other (Fulci, 1969)
Ultra-lurid Fulci riff on Vertigo, it's a very solid exploitation movie starring cult icon Marisa Mell.
Easter Parade (Walters, 1948)
Fred Astaire-Judy Garland musical. I love both of them so much that I enjoyed this, even though it is a little Easter-forward for me.
Singin' in the Rain (1952)
I've always loved it, though I admit it did lose a little bit of its luster by comparison to the Minnelli musicals (particularly The Band Wagon).
Rouge (Kwan, 1988)
Ethereal 80's Hong Kong ghost story about a suicide pact gone awry.
Ocean's 11 (Milestone, 1960)
I had never seen the original Rat Pack Ocean's 11. It is shockingly bad. It must have taken deliberate sabotage to overcome the natural charisma of the cast and make a movie this dull and drab.
Tinker Tailor Soldier Spy (Alfredson, 2011)
I saw this when it came out and was interested to revisit it. It's aged well. Alfredson's restrained direction suits the material nicely.
Spy Game (Scott, 2001)
This is the last Tony Scott feature I hadn't seen and I was not disappointed. He's nearly at the height of his powers here, though he didn't totally let loose until Man on Fire.
Castle in the Sky (Miyazaki, 1986)
So good. One of Miyazaki's best.
Dirty Dancing (Ardolino, 1987)
God, my dad made me watch this a million times as a kid, always reminding me that he visited a resort like this in the Catskills when he was growing up. Rewatching it with him 30 years later transported me right back to '88. He even reminded me about the resort again. This might be my most nostalgic movie. I remember gleefully dancing around the living room with my siblings but feeling embarrassed and a little tingly about Jennifer Grey in her bra. It's a better movie than I thought it was, thanks largely to Swayze's performance and the time warp 60's-80's weirdness. I didn't realize when I was a kid that Swayze's character and most of the music is clearly from the 80's, and it's just thrown into the 60's setting without explanation.
Welcome to L.A. (Alan Rudolph, 1976)
I am planning to do an Alan Rudolph deep dive ASAP. I've seen a number of his films over the years and I've liked them all, but I've never approached his body of work in a systematic way. This was his first feature (after an apprenticeship as assistant director to Robert Altman). It's extremely good, and I expect it will benefit from multiple viewings. Basically, Keith Carradine plays the son of a millionaire. He's an itinerant songwriter who comes back to LA and has sex with everyone. It includes lots of wonderfully weird little performances, including Geraldine Chaplin as a housewife addicted to taxi rides and Sissy Spacek as a topless housekeeper. The excellent Robert Baskin score plays throughout the movie and gives the proceedings a sense of gravity (as a study of loneliness and alienation).
The Magic Flute (Bergman, 1975)
Meh, I love Mozart's opera but this production and Bergman's presentation of it didn't do anything for me.
Angel Face (Preminger, 1952)
Freudian noir with Robert Mitchum and Jean Simmons. It's very unconventional and full of hallucinatory compositions. Godard thought this was one of the best American movies.
Speed Racer (Wachowskis, 2008)
It's hard to believe that Speed Racer was a critical and commercial failure when it came out 10 years ago. I think of it as a modern cult classic (I was on board from day 1) and I don't think I've ever talked to anyone who doesn't love it. When it showed up on Netflix recently I watched it twice and enjoyed it tremendously. It's an awful shame that the Wachowski fever dream of how to integrate computer animation and live action hasn't caught on, as this is exponentially better than most of the multiplex CGI junk we've seen since.
Pollock (Harris, 2000)
I watched this with my aesthetics class. I got a kick out of Jeffrey Tambor as Clement Greenberg. Ed Harris' understanding of alcoholism elevates this, but at the end of the day it's a fairly ordinary biopic.
The Mad Monk (To, 1993)
Early To from when he worked as a hired hand for the Shaw Bros. This collaboration with Stephen Chow is a total mess and easily the worst To movie I've seen. I took a little bit of a break from the To filmography but I'm looking forward to getting back into it.
Dirty Ho (Lau, 1979)
Excellent martial arts comedy from the great Lau Kar-leung. I generally prefer more serious wuxia over the goofier stuff, but this one is undeniable. The action choreography is jaw-dropping, especially towards the end when Gordon Liu and Wong Yue start fighting in unison.
Bangkok Dangerous (Phat and Chung, 2008)
Super fun Nic Cage hitman thriller. High Cage factor, some great action sequences, and a hefty dose of darkness and cynicism.
Television update
Legion
Kind of jumped the shark? I was really excited for this season and I liked the first half, but the second half (up till the finale) lost me. The Don Draper pseudo-philosophical narration worked fine in small doses but they pushed it past the breaking point and at times it became unbearable (the Plato's cave as a smug anti-smartphone lecture was the point where I admitted to myself that the show was getting bad). The last episode was good, however, and I think there's still a chance for Legion to redeem itself.
The Americans
I wasn't as excited for The Americans final season because I thought I knew how it was going to end. Boy, was I wrong. I will avoid spoilers here but I'll just say that this is one of the best endings ever for a TV show. For me the only thing that clearly beats it is The Sopranos. 
Tokyo Vampire Hotel (Sono, 2017)
Yes, that's a vampire Last Supper.
Not for everyone, but I devoured this. It is a crazy 7-hour mashup of the last 10 years of Sono's career with Emir Kusturica, M. Knight Shyamalan, Scarface, and so many other things. The tone is jarringly uneven (by design) and the narrative is a total mess, but if you are into this kind of thing this won't be a problem for you. Expect a lot of vampire gore up front, this comes out firing.
Billions
This Billions season was awesome! The ortolan eating episode was something I've always longed to see (the ortolan is one of my favorite examples to support the idea that a negative moral valence can play a positive aesthetic role). Another high point is John Malkovich as a Russian oil oligarch/gangster (reprising aspects of his performance from Rounders). Also, Clancy Brown is amazing as Attorney General Jock Jeffcoat, who is an even more racist, hyper-masculine vision of Jeff Sessions as a Texan. The ending sets up a Season 4 that I can't wait to get my hands on.