Featured image from Cat o' Nine Tails
I'm going to make this recommendations post a little longer than usual, because I'm sure most people need lots of stuff to watch. I'm not going too far out of my way to recommend quarantine-themed movies, but there are a few on here. I also want to recommend two streaming services beyond the usual three that I write about: Starz and Criterion Channel. We subscribed to Starz because Angela is really into Outlander, and I've been absolutely blown away by their action and horror options. The one (huge) downside of Starz is that they stream everything in 1.85:1, which means that movies that are supposed to be in a different aspect ratio are cropped and should be avoided. It's easy enough to google the title of the movie and the phrase "aspect ratio" to find out, but please do take this step when in doubt and especially be sure to avoid anything that is supposed to be in 2.35:1 or 2.4:1. But yeah, their action section is a buffet of Cannon Group 80's classics. I've revisited tons of them recently, and it's been extremely nostalgic. I grew up on that stuff. Check out Chuck Norris movies like Invasion USA, Charles Bronson movies like the Death Wish sequels (which are all fantastic, though some of them are pretty content warning intensive), the first two American Ninja movies, and the action masterpiece Runaway Train (featuring peak performances from Jon Voight and Eric Roberts).
Criterion Channel is the best streaming service by many orders of magnitude. You can throw a dart at their options and hit something worth watching, but if you're lost, I would just jump into the Rossellini or Kurosawa or Renoir movies, and also definitely check out Red River and His Girl Friday from Howard Hawks. Out of their rotating options, I would somewhat randomly call special attention to the wonderful Fred Astaire-Rita Hayworth musical You Were Never Lovelier and the bizarro post-Sirkian Burt Lancaster apotheosis The Swimmer, which is a very unusual movie to come out of the US in the 60's. It feels closer to British New Wave. For major Japanese swordplay binge viewing, try the enormous Zatoichi series about a blind swordsman, or the more violent and modestly-sized Lone Wolf and Cub series. Or for standalone swordplay movies, try Sword of Doom or Three Outlaw Samurai.
A lot of the titles from my previous streaming recs are still available:
And here are my new picks (some repeats from old posts but mostly new):
Amazon Prime
The Man Who Shot Liberty Valence
One of the greatest and most iconic westerns, from John Ford. John Wayne, Lee Marvin and Jimmy Stewart star in three of their most essential roles.
The Conversation
Coppola's masterpiece about surveillance and paranoia has only gotten more relevant now that we basically live in the panopticon.
Cave horror double feature: The Descent
and
47 Meters Down Uncaged
Although I'm also a huge fan of the first 47 Meters Down (which is on Netflix), this one is a sequel in name only and you don't need to watch them in order. The Descent is a modern classic of feminist horror. They go well together. Definitely watch The Descent first. Notice how gorgeous the underwater photography is in 47 Meters Down Uncaged. The vivid textures are really remarkable.
Transformers: Dark of the Moon
My second favorite Transformers movie after Age of Extinction. It features the utterly jaw-dropping Battle of Chicago. I just revisited it recently and it totally holds up. I appreciate Michael Bay's greatness now more than ever in contrast to the bland Disney junk that's taken over.
Magic Mike
If you haven't seen this, what are you waiting for? The sequel is a paid rental as far as I know, but it's even better.
Wake in Fright
Not for people who can't handle representations of violence against animals!!! This is gnarly Aussie psychological horror and it gets at something deep and dark about masculinity. The only thing I can think of that compares is Straw Dogs.
Dead & Buried
Not a very well known movie, but it belongs in the socio-political horror pantheon. Certainly check it out if you're into horror.
Night of the Demons
Evil Dead meets Scooby-Doo, sort of. Great 80's fun.
The Killing of a Sacred Deer
One of the blackest black comedies ever made. So much so that I don't think most people realized when it came out that it's a comedy.
The Stuff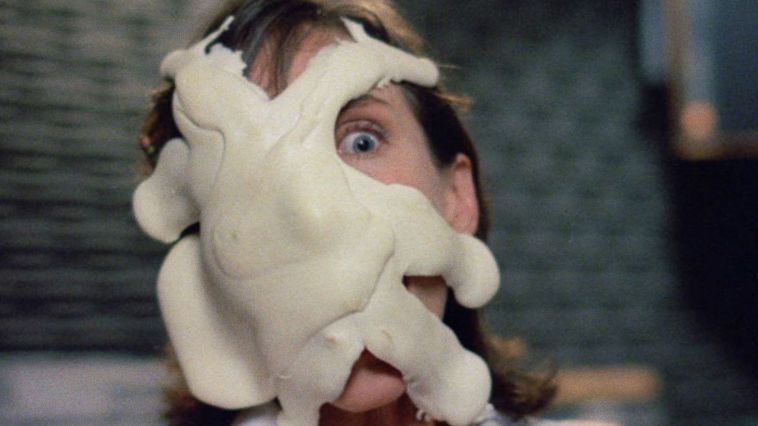 Larry Cohen's classic horror satire of consumerism. Essential.
The Crazies (2010)
As horror remakes go, this is one of the better ones. Pandemic-apocalypse themed. The superior Romero original is on amazon as a .99 cent rental, but I can't vouch for the quality. Edit: the Romero version is now free while the remake is a rental.
Bone Tomahawk
Ultra-gnarly mash-up of the Western and Italian Cannibal genres from the director of Brawl in Cell Block 99 and Dragged Across Concrete. NOT FOR EVERYONE.
Monkey Shines
George Romero's classic holds up. Ultra-intelligent killer monkey.
Unsane
We have recommended this multiple times but I want to stress again that we think it's one of the best modern thrillers and one of the edgiest #metoo movies.
Society
Extremely messed up late-80's horror classic involving an orgy cult for the 1%.
Argento giallo double feature: Cat o' Nine Tails
and
Deep Red
This is some of my very favorite shit. These are top tier gialli and together they make for a perfect intro to the subgenre. Cat is milder and more story-driven while Deep Red is hyper-stylized. It's a complicated topic, but a typical giallo involves two people (often a reporter and a tourist or resident foreigner, but not always) investigating a string of murders. The murders are shown from the killer's perspective, and the killer typically wears a black glove. The ending usually involves a lurid twist. If you don't like these, then you can safely abandon the subgenre. If you do like these, there is a whole lot more where that came from.
The Red Queen Kills Seven Times
This is an excellent giallo that mixes a classic genre formula with more unorthodox supernatural elements. This is the Italian version with subtitles, which is a fine way to watch it (though the English dub is also fine in this case). The quality isn't as good as the blu-ray but it's within the range of acceptability. If you like the Argento gialli, this is a good direction to explore next.
The Church
Soavi was the last great auteur of the golden age of Italian horror. This is a complete and total banger in the spirit of Sam Raimi, but gothic.
Next
I could watch this 100 times. I've certainly recommended it before. Nic Cage is a Vegas magician who can see exactly two minutes into the future. Hijinx ensue.
Red Dawn
John Milius classic where a rag tag gang of Real American Misfits fights back a Communist invasion.
Death Wish V: The Face of Death
It's not necessary to watch the Death Wish sequels in order but they are all great and the other ones are all on Starz in the proper aspect ratio. 2 is the gnarliest, 3 is the most over the top, 4 is the schlockiest, and this one is all about the Michael Parks factor. He is an amazing villain. He plays a gangster who rules the fashion district with an iron fist. As always with Death Wish (except maybe part 4), strong content warnings apply.
Office
Johnnie To's adaptation of Sylvia Chang's stage musical, starring Chang herself alongside a terrific ensemble cast. This is not going to appeal to everyone. The aesthetic might not work for people who haven't acquired a taste for more commercial Hong Kong cinema. But the extraordinary sets alone make this an important entry in the To filmography.
Time Regained
Ruiz's Proust fantasia. Probably impossible to follow if you haven't read Proust. It's a difficult movie. I like it a lot more now than I did when it came out. It's dreamy and focuses less on narrative clarity and more on using formal experimentation to capture the emotional content of the later books of Proust and convey ideas about memory and the passage of time.
Netflix
Love is Blind
Believe the hype: this is peak reality TV. They basically created ideal conditions for people to become intensely infatuated with each other and then threw these people back into the real world with three weeks to get married and as much pressure and disruption as possible in an effort to generate histrionic drama, and it totally worked. I found it hard to take at first but ended up binging the last five episodes. Cultural decay as riveting TV.
Purple Rain
YES! The Prince movie holds up extremely well. Just do it.
Popeye
One of the best and strangest Hollywood productions of its era: Altman's wonderful and bizarrely serious Popeye musical with Robin Williams and Shelley Duvall. You may notice that Carly Rae Jepsen sampled one of Duvall's musical numbers.
Dirty Harry
There was a clip going around recently where Harry makes an extremely sexist speech. A lot of conservatives shared it approvingly. This is very dumb, because the whole point of the movie is that he's totally wrong. This is one of the most influential crime movies ever made. The best entry in the series is Sudden Impact, which I believe is a paid rental. Clint directed that one himself and it's extremely dark and lurid.
The Dirty Dozen
War movie classic by Robert Aldrich with a ridiculously good cast: Lee Marvin, Charles Bronson, Jim Brown, Ernest Borgnine, John Cassavetes, Robert Ryan, Telly Savalas, Robert Webber and Donald Sutherland.
The Wicker Man
Along with Blood on Satan's Claw, this is peak British folk horror. Essential. Especially check it out if you haven't seen it and you are into Midsommar.
Ghost Rider
Top-tier Cage performance. Peter Fonda as Satan. This is better than all the MCU movies combined.
Nightmare on Elm Street
Yep, it's on Netflix.
Ip Man 1-3
Donnie Yen's signature series, about the legendary folk hero who popularized kung fu and trained Bruce Lee.
Bad Boys I&II
One day, this era of action movies will come to be known as "Pre-Disney" in much the same way that movies from 1930-33 are known as "Pre-Code." Bad Boys II especially is wildly offensive and a total hoot. It's not merely offensive, though, it's a virtuoso piece of action film-making. It's probably the most extreme example of Bay's distinctive style and it reveals how strongly he was influenced by John Woo. Within the first two minutes of the movie Will Smith is doing a full Chow Yun-fat akimbo two-gun dive in front of a flaming cross at a Klan rally.
Haywire
Excellent Soderbergh R-rated action flick. It's a vehicle for MMA star Gina Carano and it's delicious.
The Bling Ring
Underrated. This, Marie Antoinette, and The Virgin Suicides are by far Sofia Coppola's best work IMO.
Sliver
Trashy 90's erotic thriller, penned by the one and only Joe Eszterhas, starring Sharon Stone and Billy Baldwin. I remember going to see this in the theater like it was yesterday. It's not quite at the level of Eszterhas classics like Basic Instinct, Showgirls and Jade, but it's delightful.
Season of the Witch
Reiterating this recommendation. Trashy B-movie fantasy-horror with a solid Cage performance and a FANTASTIC Claire Foy performance.
Triple Frontier
Narcos meets Treasure of the Sierra Madre. It's a very solid genre movie with a great cast. The key to making good use of Affleck is to cast him as an asshole.
Hulu
Johnny Guitar
One of my very favorite films, featuring Joan Crawford in one of my very favorite performances. This is one of the most essential American movies. Just watch it. Then maybe watch Once Upon a Time in the West (also one of my favorites), which was heavily influenced by this and is on Netflix.
The French Connection
Friedkin's crime masterpiece features peak Gene Hackman giving probably his most intense performance. I revisited it not long ago and it totally holds up. Notice how closely Joker aped the train chase. Warning: abundant racial slurs.
Killer Joe
This is the uncensored version! (Netflix had the R-rated censored version, so I never recommended it before.) Watch it fast before Disney pulls the plug (they own Hulu now). NOT FOR EVERYONE. DO NOT WATCH THIS IF YOU CARE ABOUT CONTENT WARNINGS. If you like your movies slimy and sleazy, though, don't miss it. This is peak southern sleaze from Friedkin
Vincere
Marco Bellocchio's more recent movies have featured a two-part structure where's there's a sharp shift in tone between the first and second halves. The first half of this is about pre-Duce Mussolini and his torrid love affair with Ida Dalser. It's energetic and formally bold. The second half slows down to something closer to Dumont's Camille Claudel 1915, but IMO Bellocchio handles the asylum setting and the supporting cast far, far better than Dumont does. This is a rich movie that gets into highly resonant themes of political idolatry.
No Holds Barred
Peak 80's camp featuring Hulk Hogan. It totally holds up, if you're into this kind of thing.
Phase IV
My pal Brian Montgomery recently turned me on to this 1974 sci fi gem involving ants. It's short and ultra-stylized. Essential viewing for sci fi fans.
The Office (UK)
I refuse to accept that there is such a thing as the US version of The Office. I tried it once and I found it unwatchable. THIS is The Office, and it's great. The generation that skipped directly to the US version should go back and check this out.
Venus in Fur
An adaptation of the kinky David Ives stage play. It feels very much like a play but it does have notably cinematic qualities (directed by Polanski). It's a torrid psychosexual drama where Emmanuelle Seigner utterly dominates Mathieu Amalric. Definitely some shit.