Amazon Prime
Keoma (Castellari, 1976)
A shoddy version of Keoma has been on Prime for a while, but now they have the new Arrow transfer and it looks fantastic! I love Keoma so much that I get full body tingles when I think about it. This is spaghetti western nirvana, and one of the last notable works in the cycle. Franco motherfucking Nero plays a half-Indian gun-slinging vagabond/existential searcher (one of his best roles) who returns to his home town to find that (surprise) a wealthy oppressor has everyone under his thumb. This is a very typical setup but what makes Keoma special is the abundance of biblical apocalyptica, Nero's unspeakable badassery, Castellari's pulpy Western Gothic hyperstylization, and a whole 'nother level of soundtrack that I didn't even know existed before I saw this. I've watched it twice this week since I realized the Arrow transfer was out, once with each audio track. I think it's a toss up between the Italian and English tracks (they both have merits) but in any case the English version is the one on Prime.
Compañeros (Corbucci, 1970)
Comedic Zapata spaghetti western with a really fantastic cast. You've got a comedy duo beyond your wildest dreams with Franco Nero and the one and only Tomas Milian, you've got Fernando Rey as the idealistic professor, and then you've got an absolutely amazing Jack Palance in an insane role as a vengeful falconer with a wooden hand. Plus you've got an Ennio Morricone score. Hell yes.
The Slumber Party Massacre (Jones, 1982)
I've been watching through key moments of the 80's slumber party/sorority house/summer camp slasher cycle and this is a high point. Most people would be surprised to learn how many of these movies (including this one) were written and directed by women. There's a kind of punk feminism beneath the surface– very, very, very, very different from contemporary manifestations of feminism in film. Many of these movies follow the giallo convention of not showing the killer till the end but this is not one of them. It's a lunatic with a power drill (i.e.. death phallus). This is a ton of fun and ideal for a movie night with a crowd.
Ronin (Frankenheimer, 1998)
I'm excited to revisit this myself. It's a spectacular late work from Frankenheimer. It's best known for having one of the very best modern chase scenes (maybe the best?), but it's just a peak crime movie in general.
20th Century Women (Mills, 2016)
I highly recommend giving this a look if you skipped it. It's a companion piece to Mills' beautiful Beginners. Whereas that film is a tribute to his father, who came out as gay late in life (and is touchingly portrayed by Christopher Plummer), this one is a tribute to his mother (a characteristically phenomenal Annette Bening) and a story about growing up punk rock in a house full of strong women.
Funny Face (Donen, 1957)
Gershwin music, Audrey Hepburn as a bookish philosophy hipster, Fred Astaire: pure joy.
Southern Comfort (Hill, 1981)
One of Hill's very best movies, about a group of National Guardsmen out on a training excursion in the LA bayou who get embroiled in a conflict with some swamp folk. The virtuoso ending features some of the best use of sound in any action movie.
Youth Without Youth (Coppola, 2007)
While many of the great 70's auteurs have been fairly tame in their late output, 2000's Coppola goes harder in the paint than just about anyone. This is an unqualified masterpiece and one of his best films. I see it as a sort of sequel to his Dracula, and they make an awesome double feature.
Netflix
Cage Corner
Say what you will about Netflix, they have been great about offering plenty of bargain basement Nic Cage titles. I watch them all. I don't necessarily recommend any of them to a general audience, but Cage fans should take note. Here's my rundown of the newest additions:
Arsenal (Miller, 2017)
This is the one to watch. This is that good shit. This is that 3% Tomatometer Cocaine Cage shit. One unfortunate thing about Cage's filmography is that one of his very Cagiest performances is too small a part of the movie: Deadfall. Arsenal is a dream come true: he reprises the character from Deadfall, but now he's a major part of the movie. Make no mistake: Miller is a hack and in some ways this is a terrible movie, but it has twenty times the Cage factor of Mandy. Come for the Cage, stay for the Cage.
The Runner (Stark, 2015)
The Cage factor here could be easy to miss for the untrained eye. It's a pretty mild movie striking some low blows against capitalism in light of the BP oil spill. Its cynicism is trite. But as a hothouse melodrama I kind of love it. Cage is an idealistic politician with an inconsistent New Orleans accent who just wants to do good but can't keep it in his pants. This has more Cage factor than any of the others except Arsenal.
Season of the Witch (Sena, 2011)
Oh boy. This has some decent Cage factor but that's not really the main attraction. The Claire Foy factor is what makes this. Also, the story is way less formulaic and way crazier than I expected. This is not the greatest movie but if you're into this sort of thing (dark ages horror-adventure), you could do a lot worse.
Inconceivable (Baker, 2017)
Meh, this doesn't really live up to its premise. It's a hand that rocks the cradle sort of thing where the nanny wants to seduce Cage and replace his wife, but there are only a few glimmers of Cage delight and this formula is beyond tired. I can't deny I enjoyed watching it, though.
I Think You Should Leave (Robinson, 2019)
Sketch comedy that's actually funny! It avoids politics and just goes for deep weirdness that straddles the highbrow/lowbrow distinction. I'm still laughing about that motorcycle sketch.
Ninja Assassin (McTeigue, 2011)
Look, I am not in favor of CGI ninjas, but we are in an era where you can't really expect otherwise. Game of Thrones is like "yeah we didn't put Ghost in this final season much because the CGI is too expensive," and I thought, "is it no longer even an option to just use a fucking dog?" Anyways, as CGI ninja movies go, this one is the bee's knees. The premise is so wonderful: the dire consequences that accrue when ninjas fall in love. This is actually one of my favorite martial arts movies from the last decade.
The Butterfly Effect (Bress and Gruber, 2004)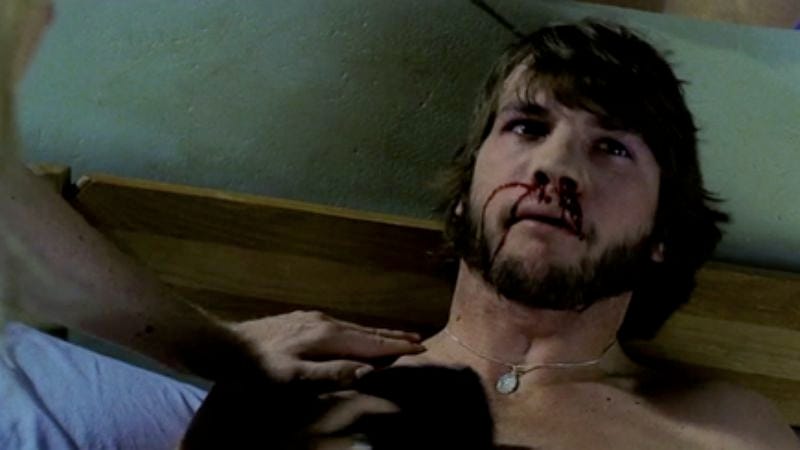 This baby has aged well. It has always been an extremely funny good-bad movie but newly restrictive norms of political correctness make this play even funnier, because it deals so flippantly with such taboo topics.
Don't Go Breaking My Heart and Don't Go Breaking My Heart II (Johnnie To, 2011 and 2014)
Two of the only truly great romantic comedies this decade. They work as genre movies, but they also weave in an acrid critique of life as a successful professional under late capitalism (relating to To's Life Without Principle and Office).
Hulu
Hulu is pretty bad now (but they've got Veronica Mars coming) They've still got the wonderful The Duchess of Langeais, at least. These two recs are super obvious and probably not helpful but just in case:
Happy-Go-Lucky (Leigh, 2008)
A masterpiece of bittersweet optimism from one of the greatest British filmmakers.
Hunt for the Wilderpeople (Waititi, 2016)
Waititi's best movie by a mile. I think we've already recommended this once, but in any case, if you liked the diluted flavor he brought to Thor: Ragnarok, you can get the full strength version here.
Criterion Channel
I don't usually include recommendations for Criterion Channel/Filmstruck, because really it's all worth watching and I think it's best to let the curators be your guide, but I want to super emphasize one thing: My Name is Julia Ross. It's a feminist gothic noir that could have been famous for originating the concept of gaslighting if not for the movie Gaslight.